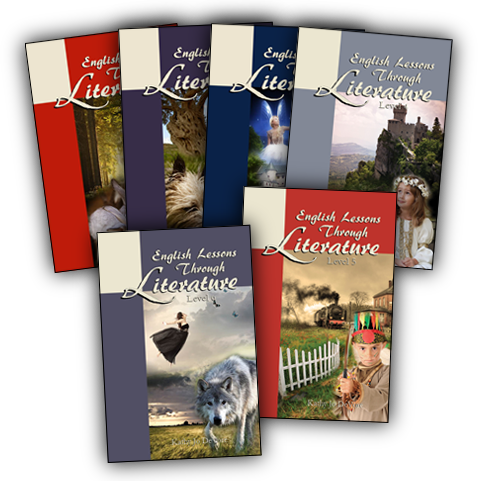 See reviews from:
Cathy Duffy
The Old Schoolhouse
Pollinating Imaginations
Unhurried Home
See the sample package at Lulu.com.
Formerly Language Lessons Through Literature.
When I began homeschooling my oldest son in 2002, we used an inexpensive Kindergarten curriculum from my local Christian bookstore. While we went through those beginning lessons, I began to research homeschooling methods.
I came across wonderful suggestions for how to teach language arts—copywork, prepared dictation, narrations, imitation. I knew what I wanted from a language arts program.
I also knew what I didn't want. I read that comprehension questions actually train children to focus on certain types of information while reading, to the exclusion of other details. Many programs ask young children who are still learning to become proofreaders, to choose the correct spelling, the correct punctuation, out of a list of wrong answers. These wrong answers imprint upon the child's mind just as a right answer does, so these programs can actually hinder children in their learning.
Finding a program, or programs, that included what I wanted while exlcuding what I didn't want was an exercise in futility. When my second son was in second grade, I began writing him lessons based on The Wonderful Wizard of Oz, and English Lessons Through Literature was born.
What's different about English Lessons Through Literature?
Short, three day per week lessons keep Language Arts from taking all of your time.
Children interact with books, not just passages from books.
Writing is taught through imitation.
Spelling is taught through prepared dictation.
Copywork is included from the literature, the Bible, maxims, and poetry.
Students rewrite sentences from the stories, changing the sentences through grammatical changes. This old exercise from Erasmus teaches children to say the same thing in many different ways.
Children write outlines, then write papers from their outlines.
In a typical ELTL lesson:
The child listens or reads the literature, depending upon his age.
A brief lesson explores a grammatical concept. Examples are taken from the literature.
In levels 3 and up, there's a short writng exercise. The child might analyze words from the new narration story, change a sentence from the story, or imitate a descriptive paragraph.
The child listens or reads the poem and the Aesop's fable.
The lesson ends with a short exercise and copywork. The exercise sentences are also from the literature.
Once per week, there is either a written narration or a picture study.
Level 1
Level 1 is an intentionally light program, written with the beginning reader in mind. The real star of the show is the copywork. Short lessons point out punctuation and capitalization.
Literature in Level 1:
Beatrix Potter Stories
Just So Stories by Rudyard Kipling
Five Children and It by Edith Nesbit
The Jungle Book by Rudyard Kipling
Pinocchio by C. Collodi
The Orange Fairy Book by Andrew Lang (seven stories)
The Velveteen Rabbit by Margery Williams
Five Little Peppers and How They Grew by Margaret Sidney
Level 2
Level 2 is where the real work in grammar begins. All eight parts of speech are taught in Level 2, and the child practices recognizing them in short passages from the literature.
Literature in Level 2:
The Wonderful Wizard of Oz by L. Frank Baum
The Blue Fairy Book by Andrew Lang (13 stories)
Peter Pan by J. M. Barrie
The Wind in the Willows by Kenneth Grahame
Alice's Adventures in Wonderland by Lewis Carroll
Through the Looking-Glass and What Alice Found There by Lewis Carroll
A Wonder-Book for Girls and Boys by Nathaniel Hawthorne
Level 3
Level 3 reviews all eight parts of speech and begins sentence diagramming. In the optional workbook, children are given the lines at first, making it a "fill in the diagram" exercise. Sentence diagramming is an excellent tool for analyzing sentences. If a sentence "sounds" wrong, a diagram can show visually what the problem is.
Literature in Level 3:
The Story of Doctor Dolittle by Hugh Lofting
The Marvelous Land of Oz by L. Frank Baum
Beautiful Stories from Shakespeare by E. Nesbit
The Secret Garden by Frances Hodgson Burnett
The Princess and the Goblin by George McDonald
Upper Levels
Levels 4 and 5 cover both grammar and writing, just as the earlier levels do. However, where the early levels cover writing solely through narration, Levels 4 and up have an emphasis on more progymnasmata style projects as well as descriptive writing through imitation and beginning literary analysis.
Level 4 is for 4th grade and up, and Level 5 is for 5th grade and up. The "and up" is an important distinction! I wouldn't hesitate to use either of these levels with older children who need to cover the basics of grammar and writing.
Levels 4 and 5 have the same types of writing projects, but with new stories for each level. These are condensed, amplified, point of view, and slant narratives, plus scientific and historical narrations. The scientific and historical narrations are intended to be preparation for writing reports. They read the science story, then write about just the science topic discussed, leaving any other elements of the story out. In Level 4, they write about a historical topic, and in Level 5, they argue an opinion about the historical topic. For the historical and scientific narrations, both levels mention the option of checking other sources before writing; I left that up to the student and the teacher. Level 4 teaches the one-level outline, Level 5 reviews the one-level outline and also teaches the two-level outline. Level 5 covers introductions and conclusions.
Regarding grammar, Level 5 is a little more advanced, and the pacing is also a little faster. I would personally choose Level 4 for a child who has had little to no formal grammar instruction, and Level 5 for a child who has the basics down and is ready to move on to more advanced grammar. Level 4 teaches indirect objects and diagramming prepositional phrases, identifying the parts of the verb, and determining whether a group of words is a phrase or a clause. Level 5 repeats that and also teaches types of clauses, sentence structures, diagramming complex and compound sentences, and more advanced punctuation.
My plan for Level 6 is for it to repeat the more advanced grammar from Level 5, then move on to still more advanced stuff. I'm still in the planning stages. There will be 8 levels total, Lord willing. The last level will be a review and practice level. It will not have any lessons in it, nor no poetry or stories. Instead, it will cover about six books which can be done in any order. After the student reads each chapter, he will have a few sentences to diagram to keep his skills sharp. One or two books per year will get him through high school without forgetting everything he learned about grammar before they got there.
Literature in Level 4:
Black Beauty by Anna Sewell
The Book of Dragons by E. Nesbit
Heidi by Johanna Spyri
Ozma of Oz by L. Frank Baum
Tanglewood Tales by Nathaniel Hawthorne
The Reluctant Dragon by Kenneth Grahame
Literature in Level 5:
"The Ransom of Red Chief" by O. Henry
"The Gift of the Magi" by O. Henry
The Emerald City of Oz by L. Frank Baum
The Adventures of Tom Sawyer by Mark Twain
The Happy Prince and Other Tales by Oscar Wilde
Little Women by Louisa May Alcott
Around the World in Eighty Days by Jules Verne
Literature in Level 6:
At the Back of the North Wind by George MacDonald
Call of the Wild by Jack London
The Patchwork Girl of Oz by L. Frank Baum
Otto of the Silver Hand by Howard Pyle
The Adventures of Sherlock Holmes by Sir Arthur Conan Doyle
Literature in Level 7:
"Rip Van Winkle" by Washington Irving
"The Legend of Sleepy Hollow" by Washington Irving
"The Raven" by Edgar Allan Poe
"The Tell-Tale Heart" by Edgar Allan Poe
"The System of Dr. Tarr and Professor Fether" by Edgar Allan Poe
The Black Arrow by Robert Louis Stevenson
A Christmas Carol by Charles Dickens
The Canterville Ghost by Oscar Wilde
The Tin Woodman of Oz by L. Frank Baum
Northanger Abbey by Jane Austen