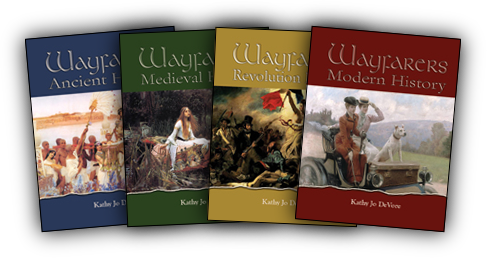 Click here for access to the EXTRAS files available for purchasers of Wayfarers.
Download a free sample of each volume of the Wayfarers below.
Wayfarers: Ancient History

Wayfarers: Medieval History

Wayfarers: Revolution History

Wayfarers: Modern History
---
Wayfarers is our full curriculum guide. Each volume contains a schedule with all the assignments listed for preschool through graduation, so your entire family can study the same time period together while you only have one guide to keep your studies organized. Each sample includes the reading lists and the first three weeks of lessons. Each day has a two-page spread, and those two pages show all the assignments for all age groups.
One of our customers coined the phrase Classical Mason, and we like it!
Wayfarers is classical. By following the four-year history rotation, the entire household can study the same time period, paving the way for shared extracurricular activities and discussions.
Wayfarers is Charlotte Mason inspired. With a focus on living books, copywork, and narrations instead of textbooks and busywork, Wayfarers provides a rich learning environment to feed the imagination.
Focus on Living Books
Literature adds so much more to our studies than a committee-written textbook ever could! By focusing on quality literature, students get all the benefits of reading great books while learning about geography, science, and history. And they'll remain engaged in a way that a textbook is unlikely to inspire. When textbooks are used, Wayfarers schedules living textbooks. These un-textbooks are generally written by a single author who is passionate about his subject, such as Real Science 4 Kids and Novare Science and Math. These act as spines for specific studies, especially for older students.
Hands-On Options
Do you have a child who prefers projects to reading? Although reading is our preferred method of input, we also schedule some hands-on books and programs as options for those who want more variety, such as Great Science Adventures as well as recipe and art books to supplement the study of geography. These activities are scheduled as bonus material instead of as part of the lesson, making it easy and guilt-free to do them or not as time and interest permit.
Fine Arts Are Not an Afterthought
Art and music are included in multiple ways. Art instructional books from How Great Thou Art are scheduled for all ages. Each term has a new composer for listening. And each week has a History Through Art section in the Milestones which includes a picture study of a piece of art either from or about the time period being studied as well as a brief discussion of the subject.
Follow That White Rabbit!
The Milestones at the end of each week also include a few rabbit trails. We've found topics from the geography literature books and written briefly about them because rabbit trails are fun. With Wayfarers, each week provides just a few which can be enjoyed on their own or used as a jumping off point for further wandering.
Keep Up With Core Subjects
And finally, basic subjects are included on the schedule as a reminder to get the math and grammar done. Additional subjects are scheduled in at the proper time, such as logic, Richard Maybury civics and economics books, and Joy Hakim's History of Science books. Daily narrations and spelling through prepared dictation are also on the schedule in order to practice language arts skills in a more natural way, and they take the place of busywork such as worksheets and comprehension questions. Instead, students interact with all the quality literature they're reading as they practice composition and discuss literature.
"The food of mind…"
"The food of mind, a daily bread as necessary as that of body, is precisely those 'mental pictures or ideas' which imagination produces; and for this reason, children must have the mind-stuff which they can transmute into such pictures or ideas; nothing external serves the purpose… [T]he mind which does not feed on poetry, history, fiction, travel, all the treasures that are bound up in books, on pictures, on the beauty of a sunset or a flower, such a mind may be acute and alert, but it does not dwell in heavenly places." ~ From "The Imagination in Childhood" by Charlotte Mason, The Parents Review, Volume 27, no. 3, March 1916, pgs. 202-207.