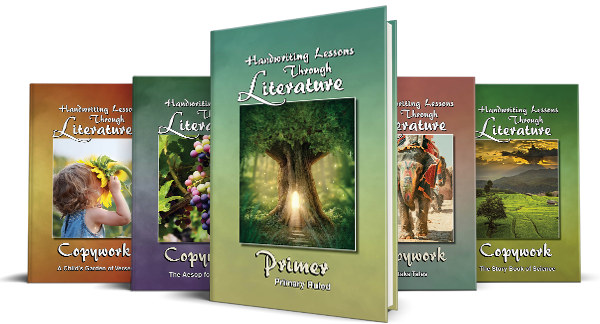 Handwriting can be more than just a way to practice penmanship.
Copywork is an efficient way to practice language arts skills. Through copywork, students practice writing grammatically correct sentences with correct punctuation, passively learning the rules of good composition. They practice spelling, writing the most common words in the English language over and over again with each new passage. And they practice these skills with beautiful language, imprinting students with a wide variety of ways to express their own thoughts.
Handwriting Lessons Through Literature (HLTL) takes full advantage of the benefits that copywork imparts, beginning with the instructional Primer book and followed by copywork books from many different sources.
See our Handwriting Fonts page for more information on the handwriting font choices available. And see the Bookstore for ease in finding the right book.

Handwriting Instruction: HLTL Primer
Handwriting Lessons Through Literature: Primer teaches handwriting by focusing on chunks of words, using phonograms and Webster's syllabary. This has multiple benefits. Practicing with the phonograms and syllabary reinforces proper spelling. The same pages can be used from year to year for additional practice and review. And for cursive writing, the process of writing through the syllabary includes all possible cursive joins.
HLTL teaches 76 phonograms, capital letters, and Webster's syllabary. Since it teaches handwriting using the building blocks of words instead of words themselves, it is truly appropriate for all ages. It is also a wonderful way to review good handwriting habits each year while using copywork from quality literature for practice the rest of the time.
In addition to handwriting practice, Primer can also be used by older students as a workbook for learning to read and write the phonograms alongside Reading Lessons Through Literature, which can be used for either reading or spelling.
HLTL Copywork Books
The remaining books in the HLTL series are copywork books for continuing practice. The literature chosen for copywork is predominantly self-contained in nature–poetry and short stories. This makes it easy to add copywork from literature to your homeschool without committing to reading an entire book. You can simply read the source story or poem for that day, and then do the copywork. The source material for each book is in the public domain in the United States of America, so you can download these for free online at Project Gutenberg.
We currently have three HLTL copywork books available with more coming soon. Many of these copywork books will correspond to the stories used in English Lessons Through Literature (ELTL), so they can be used either alone or in conjunction with ELTL.
A Child's Garden of Verses includes one page of copywork for each poem in Robert Louis Stevenson's book of poetry.
The Aesop for Children includes one page of copywork for every two fables from the original book illustrated by Milo Winter. Aesop's fables are included in ELTL Levels A and B.
The Story Book of Science includes one copywork page per chapter from Jean Henri Fabre's book.